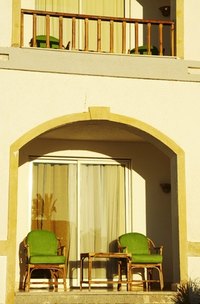 Hotel managers coordinate the staff, budgets, marketing and material resources of hotels to ensure a satistfactory experience for guests. One general manager may be in charge of everything in smaller properties, large hotels may have several department managers that coordinate their activities. A bachelor's degree is the typical requirement, and in large chains relocation to new properties may be needed for advancement.
Work
Hotel managers typically work more than 40 hours a week, including evenings, holidays and weekends, because hotels must tend to guest needs 24 hours a day. Work in some locations may lessen slightly in the off-season, at which time managers may assume duties that are not related to guest services. The median salary for hotel management is $46,300 yearly, with a range of $28,450 to $85,600 per year. This breaks down to $22.26 hourly, with a range of $13.68 to $41.15, as of May 2009 according to the Bureau of Labor Statistics (BLS).
Experience
As hotel managers become more experienced, they gain exposure to more problems and solutions, and are better able to cope with different situations. They become more valuable to their employers and get higher salaries with each passing year. For example, new managers receive $29,912 to $46,784 per year, while at one to four years of work they earn $30,227 to $47,194. At five to nine years of experience, they make $37,646 to $59,727, and at 10 to 19 years, they obtain $43,692 to $76,983. Finally, at 20 years or more of experience, they are paid $55,840 to $104,271 per year.
Employers
The biggest employer of hotel managers is traveler accommodation, with almost 88 percent of the available 31,660 positions. It pays higher than the median at $25.40 per hour or $52,830 per year. The highest paying employer is management of companies and enterprises, a sector that obtains controlling interest in other companies to influence management decisions. Hotel managers here determine how to handle hotels that their employers have just acquired. This sector pays $38.34 per hour or $79,740 per year. But since it offers only 260 jobs, it is difficult to break into.
Location
The top paying state for hotel managers is Nevada, where Las Vegas hotels open constantly to cater to travelers and gamblers. Salaries here are $35.66 per hour or $74,180 per year. They are followed by New York, a world capital for business and tourism, where pay is at $34.97 per hour or $72,730. Third on the list is the District of Columbia, where visitors stay at hotels to conduct government business or enjoy many tourist sites. Compensation here is at $33.39 per hour or $69,440 per year.