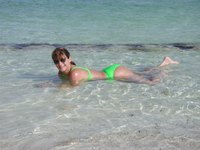 Florida is the second most visited state in the country, according to TravelersDigest.com, with 4.1 million overseas visitors per year. There is little doubt that Walt Disney World has something to do with it, but there are also plenty of beaches with white sand and clear water that are worth checking out as well. Not every beach is equal, but if you are looking for crystal-clear water, Florida has a few places you might want to see on your next visit.
Fort De Soto Beach
Located near Tampa Bay, Fort De Soto Park encompasses five islands and 900 acres. Its beach has been consistently ranked as one of America's top beaches by Trip Advisor. Along with the beach's white sand and crystal-clear water, visitors can check out the park's wildlife and visit the early 20th century Fort De Soto.
Caladesi Island State Park
After taking a ferry ride to this 500-acre island located in the gulf, north of Clearwater, you can enjoy its picnic areas, go fishing and of course, lay on the beach. The island is unpopulated, leaving its white sand beaches and clear water in pristine condition.
Siesta Key Beach
Located just off the coast of Sarasota sits Siesta Key Beach, an eight-mile-long island teeming with wildlife including parrots and pelicans on its white sand beaches. One unique aspect about Siesta Key is the fact that its sand is 99 percent quartz, making it soft and always cool to the touch, regardless of how long the sun has been shining.
Egmont Key State Park
Situated at the mouth of Tampa Bay is the island known as Egmont Key State Park. There is plenty to do including fishing, roaming the ruins of Fort Dade, viewing wildlife such as tortoises and hummingbirds, boating, fishing and snorkeling. But if you would rather just lay on the beach, you can relax and enjoy the view of crystal-clear water lapping up on the shore.