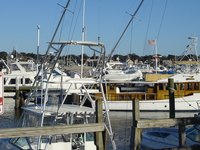 Rhode Island is the smallest state in the Union, but offers opportunities to tour historic homes in Newport and embark on sailing excursions in Greenwich Bay and the Atlantic. This state features full-service and boutique hotels with whirlpool suites. These suites can be used for honeymoons or couples getaways. Rhode Island is also home to "King Phillip's Seat" a natural rock formation that was once a meeting ground for the Wampanoag American Indian tribe.
Newport Hotels
Newport is on the southern end of Aquidneck Island, offering opportunities for sailing activities in Newport Harbor. This city features historic homes built in the late 19th and early 20th centuries; some of these homes include "The Breakers" and "Miramar"--the summer homes of the Vanderbilt and Widener families, respectively. Seafood dining is available in Newport's Art and Entertainment District, less than five minutes from Newport Harbor.
The Newport Spa and Whirlpool Suites feature whirlpool tubs in their king and queen suites. These suites also have living rooms. Captain's Grill Restaurant provides on-site dining; the menu consists of seafood dishes. The hotel's indoor swimming pool is in an atrium setting. Pets may stay for an extra fee.
The Chanler Hotel is in the heart of eastern Newport's Cliff Walk Park, overlooking Easton Bay. Some of the rooms have indoor whirlpool tubs, while other have whirlpool tubs on an adjacent outdoor deck. Fine dining is provided at the hotel's Spice Pear restaurant, which has an open-air kitchen and stone fireplace. SUV transportation is available to escort guests to Newport attractions.
Providence Hotels
Providence, Rhode Island's capital, is one of the oldest cities in the United States, founded in 1636. Tourist attractions include the arch over Atwells Avenue and the Waterplace Park, a pedestrian park near the confluence of Providence's three rivers. Dining and shopping opportunities are available at Market Square and downtown's Providence Place Mall.
Hotel Dolce Villa is in Providence's Federal Hill area, within walking distance of Atwells Avenue's arch. One- and two-bedroom suites have whirlpool tubs, living rooms and fully furnished kitchens. Daily and weekly rates are available. The adjacent lounge, Smoke, offers hookah smoking and full-service bar.
The Courtyard Marriott in downtown Providence features king rooms, which have sitting areas and whirlpool tubs. An indoor swimming pool and outdoor sun deck are available. The hotel offers shuttle transportation to T.F. Green International Airport.
Rose Farm Inn
The Rose Farm Inn is on Block Island, off the southern coast of Rhode Island's mainland. This hotel features two inns that resemble bed-and-breakfast homes, the Farm House and Captain Rose House. All rooms in the Captain Rose House have whirlpool tubs. Rooms in both inns have antique-style furniture, such as canopy beds and wardrobes. The hotel has the Breakfast Room for breakfast and afternoon tea; walking paths are available on the hotel's 20-acre property. The property includes a fire pit and stone cobble walls. The ferry from Block Island to the mainland is a five-minute drive from the hotel.
Village Inn Resort and Conference Center
Situated in Narragansett, the Village Inn Resort offers views of the Atlantic from its rooms. This hotel offers several lodging options with whirlpool tubs, including family suites, deluxe rooms and semi-ocean view rooms. Many of these rooms have balconies. The hotel's restaurant serves seafood items, freshly caught from nearby Narragansett Pier; breakfast is served in the hotel's Breakfast Cafe. An indoor swimming pool is available. Scarborough Beach, less than 10 minutes from the hotel, offers opportunities for sailing and swimming activities. The hotel is a five-minute drive from the Point Judith Country Club, which has an 18-hole golf course.