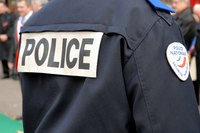 In 2009, police across the country were busy fighting, tracking and solving millions of crimes. This included 494 murders in North Carolina, 11,639 robberies in New Jersey, 99,681 aggravated assaults in California and 19,619 vehicle thefts in Maryland, according to the Disaster Watch website. Although often portrayed in a glamorous light on dramatic television series and movies, police officers put themselves in the line of fire every day to protect their constituents.
Facts
Police officers across the country earned an average hourly rate of $26.53, reported by the U.S. Bureau of Labor Statistics in 2009. State government was the only industry/organization paying above-average hourly rates to its police officers at $28.30 per hour. Local government fell just under the national hourly rate at $26.50.
Location
States throughout the country offered police officers significantly higher-than-average salaries. California topped the list with the highest-paying hourly rate of $37.83, closely followed by New Jersey, at $37.34. The District of Columbia placed third, at $32.61. In fourth place was Illinois, paying its police officers an hourly rate of $31.76, with the state of Washington trailing at $31.07 per hour.
Considerations
Police officers are regulated on a state-by-state basis and then on a city, town or local level, with differing requirements and training required for each. The North Carolina Highway Patrol, for example, requires prospective police officers to be a minimum of 21 years of age and a maximum of 33 years old. Prospective officers must be U.S. citizens with a North Carolina driver's license and a high school diploma or GED, though the patrol suggests candidates have some post-secondary education. The Patrol also requires candidates to be a maximum of 6 feet 5 inches tall and have a maximum weight of 240 pounds. Applicants are subject to criminal background and drug tests.
Outlook
The BLS anticipates adding 9 percent or an additional 57,300 jobs to the "blue force" patrolling the country between 2008 and 2018. The best opportunities to attain salaries will come from seeking employment at rural, high-crime, local police departments.