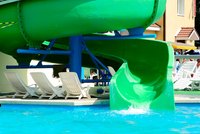 When traveling with kids, one of the best features a hotel can have is an indoor water park. A pool for the kids to enjoy, maybe a water slide and a hot tub for the grownups can make a stay at a hotel much more enjoyable. Abbotsford is a small city just a short distance from Vancouver, and can be a nice place to stay slightly removed from the hustle of the big city.
Super 8 Abbotsford
The Super 8 Abbotsford features a complete indoor water park. There is a water slide, an indoor pool and a hot tub. There is also a fitness center in the hotel. High-speed Internet is complimentary, and pets are accepted at the hotel with the payment of a surcharge. Pets are only accepted in certain rooms, so you must book ahead if bringing a pet. Family Kitchen suites include a separate bedroom along with the kitchen and a living room with a fold-out bed.
Hampton Inn & Suites by Hilton Langley-Surrey
In this Langley hotel there are 96 guest rooms. There are rooms available with two queen-sized beds, or rooms with a single king-sized bed. King bed rooms also come with a sofa-bed. Smoking and non-smoking rooms are available. There is also an option for a full-sized king suite with kitchen. The pool facility includes a swimming pool with a fitness center for the adults and a bright yellow water slide for the kids. The slide is 2 1/2 stories tall.
Best Western Regency Inn & Conference Center
The Best Western Regency Inn in Abbotsford provides its customers with two fully heated indoor pools, along with a hot tub, in its water-park area. This hotel provides wireless Internet and refrigerators in every room. Suites and business-plus rooms are also available. There is also a free hot breakfast provided for guests. A few miles away from the hotel is the Greater Vancouver Zoo. There are also golf courses within a short drive of the hotel.
The Sandman Signature Hotel Vancouver
The Sandman Signature Hotel in Vancouver has three pools on its property. There are two outdoor pools for guests to enjoy when the weather is right, but there is also an indoor water park. Indoors, there is a large swimming pool, hot tub and a 225-foot water slide. There is a Shark Club Sports Bar & Grill and a CHOP Steak Fish Bar for dining options within the hotel itself.