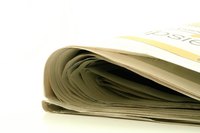 Newspapers depend on advertising sales for revenue, and those ads in turn help fill the pages of the paper. One factor that advertisers must decide is the size of the ad or ads that they will place. Ad size is one element in determining ad rates, along with the frequency and location of the ads, and though a variety of sizes and formats can be used, some are more common than others.
Column Inches
Each page of a newspaper starts out as a grid consisting of a set number of columns, based on the design preference of the specific newspaper. The columns are then divided into units known as column inches, and ad rates are based on the total number of column inches they occupy on the page. The advertiser supplies the shape and dimensions of the ad, and the newspaper fits the ad into the overall layout of the page.
Full-Page
One common print ad size is the full-page ad, which can cover a single page or be combined with another on the facing page as a format known as a "double truck." A standard newspaper is between 21 and 22 inches high, so with a paper using a six-column grid that would equal approximately 126 column inches of ad space, with that figure doubled for a double truck ad.
Half-Page
Half-page ads are also a staple in newspaper advertising. These half-pages can be laid out in a vertical or horizontal placement, and occupy either the left or right side or the top or bottom half of the page. Both can also be expanded into a double truck ad, with horizontal ads occupying the top or bottom half of the two-page spread, and vertical ones taking up the central half of each.
Other Sizes
Other commonly used ad sizes include the 1/4-page ad, which can also have a horizontal or vertical layout and occupy any agreed-upon quadrant of the page (equating to half the column inches of a half-page ad), as well as a 1/8-page ad, which allows for further flexibility in its placement on the page. Banner ads -- which span the top or bottom of an entire page, with height in column inches determined by the advertiser and the particular page of the placement -- are another preferred layout choice.