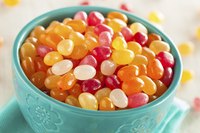 You may find cookies, cupcakes and candy hard to resist, but your health depends on doing just that. Although most nutrition experts recommend limiting sweets and candy, about 35 percent of the calories Americans consume are empty calories -- foods that have a significant number of calories without significant nutrients -- that come from things like desserts, soda and candy. Eating more sweets and candy not only leaves less room for more nutritious choices like lean protein and vegetables, but it also sets you up for weight gain and chronic health problems.
Expanding Waistline
Sweets and candy generally contribute nothing more than extra calories and saturated fat to your diet. While a cookie here or a piece of chocolate there won't significantly affect your weight, eating sweets and candy regularly can lead to weight gain over time. Dr. Robert Lustig, a pediatric neuroendocrinologist at the University of California San Francisco, blames sugar for the rise of obesity in America. According to Lustig, sugar increases fat storage and sends signals to the brain telling your body that you're hungry, which can lead to overeating.
Havoc on Your Heart
Overdoing it on desserts and candy can increase your risk of heart disease. High cholesterol and high triglyceride levels are two risk factors for heart disease -- the leading cause of death in America. The saturated fat and trans fat found in many sweets contribute to increasing cholesterol levels, while the sugar raises triglyceride levels.
Danger to Your Pearly Whites
The sugar in sweets and candy can set you up for tooth decay, especially if you regularly eat chewy candies or suck on hard candies, which make it difficult for saliva to wash the sugar away. The bacteria that live in your mouth feed off the sugar from the sweets you eat, creating acid as a byproduct. This acid eats away at the enamel on your teeth, which increases your risk of cavities and tooth decay.
Taming Your Sweet Tooth
If you have a yearning for all things sweet, gradually scaling back may be more beneficial than trying to quit your sugar habit cold turkey, according to Harvard Medical School. Trying to eliminate all sweets at once can cause intense cravings that eventually lead to binging. Instead, slowly phase sweets and candy out by filling up on lean protein, whole grains, vegetables, fruits and healthy fats, like avocado and olive oil. Keep temptations, like cookies, chocolate and candy, out of the house. Swap your dessert for a piece of sweet fruit, like pineapple or a peach.