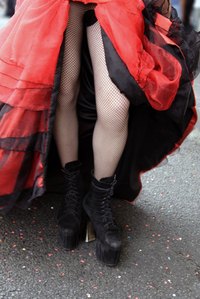 Sitting on the coast of Atlantic Ocean, Daytona Beach, Florida, attracts tourists with 23 miles of beaches, popular events, museums and vibrant nightlife. Several nightclubs in Daytona cater to the gay and lesbian community, and many more are located in Orlando, around 50 miles south of Daytona Beach. Highlights at these nightclubs often include live entertainment, drag queens, male dancers and strippers.
Club Déjà Vu Ultra Lounge
Although not an exclusively gay club, Déjà Vu hosts a gay and lesbian night every Thursday. Along with a full bar, guests can enjoy dancing, live entertainment and drag shows by paying a cover charge. Club Déjà Vu allows smoking, accepts credit cards and offers free parking.
Savoy Daytona
Savoy Daytona is a casual nightclub that caters to the gay and lesbian community seven days a week. They welcome guests 18 years and older from Wednesday through Sunday. However, on other nights guests must be at least 21 years and older to enter the club premises. Guests must show a proof of identification, such as a driver's license, passport or a military card. Featuring a 100-foot bar, Savoy Daytona offers a dance floor, DJs, dartboards and pool tables. Drink specials include happy hours daily.
Rumors Nite Club
Located in Daytona Beach, Rumors Nite Club is a gay-friendly nightclub. Open daily, the bar offers a dance floor, full bar, video games and pool tables. Customers can enjoy live entertainment, dancers, strippers and DJs spinning the latest tunes without paying a cover charge.The bar is open until 2 a.m.
Pulse
Located in the heart of Orlando, Pulse is a premier gay nightclub and lounge. Stylish and contemporary, the lounge at Pulse offers romantic ambiance with dimmed lights, waterfalls and private tables. Guests can partake in a night of dancing in the jewel box, a room that treats your senses with a digital sound and light experience. The bar welcomes guests 18 years and older. Check the official website prior to heading to the club for cover and drink special details.
Parliament House Resort
Touting itself as "an all gay resort and entertainment complex" on its website, Parliament House Resort is a popular destination for many gay tourists. The resort houses a theater, club and several bars to meet varied needs. Guests 18 years and older have access to a disco, video, piano, pool and Western bars. From female impersonation shows, bingo and karaoke nights, Parliament House has it all covered to keep you entertained.