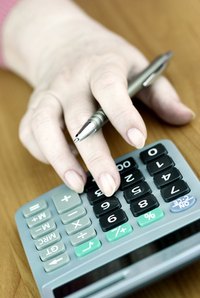 "Retained earnings" refers to the amount of earned income a company keeps to continue its operations. When it makes a profit a company must decide what portion of the profit it will part with, in the form of dividends, and what portion it will retain to continue doing business. When dividends are paid, the retained earnings account is decreased.
Retained Earnings
Retained earnings is a section of owner's equity. This account has a normal credit balance. When credits are made to this account, the balance in the account increases. When debits are made to this account, the balance in this account decreases.
Statement of Retained Earnings
A statement of retained earnings is prepared for each period a business operates. The statement shows the beginning amount in the retained aarnings account, all changes and the ending balance. Changes made to retained earnings include adding the company's net income, subtracting the company's net loss or subtracting dividends paid to shareholders.
Dividends
Dividends are earnings distributed to the shareholders of a company. Dividends can be stock dividends or cash dividends, paid on a per-share basis. Either type cuts into the balance of retained earnings. When a stock dividend is made, the retained earnings account is decreased and the amount is placed in the "contributed capital" account; which is a form of owner's equity.
Reasons
A company's board of directors is responsible for appropriating the balance in retained earnings. When dividends are declared and paid, the board of directors typically chooses this route for three reasons: to meet legal requirements, to meet contractual requirements and because of the management's discretion. As for legal requirements, certain states have laws regarding the amount of treasury stock the company is able to acquire and own. Contractual agreements deal with appropriating an amount of retained earnings to bond debt. Management discretion often is used when companies decide to keep most of retained earnings for future company expansion.