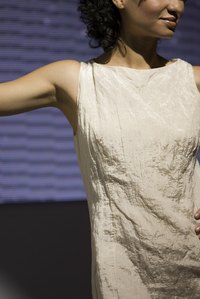 Fashion editors attend fashion shows, meet with designers and keep abreast of evolving fashions by reading trade journals, tapping into fashion blogs and keeping an eye on the international fashion scene. It's not all silk and stockings, though; fashion editors spend plenty of time transcribing notes, interfacing with other journalism professionals and plugging away on computers. The average salary of a fashion editor depends on a number of variables.
Types
Fashion editors work with reporters writing for fashion magazines, online fashion bloggers, critics and other fashion editors. Some fashion editors write for the editorial, marketing or public relations departments of big design companies. Some work for high-end publications; others may edit columns for the local paper or self-publish their own fashion blog. Fashion editors supervise and coordinate content for TV shows, newspaper fashion sections or magazines. Freelance fashion editors work as independent contractors, charging by the hour or per story to forge a living. In this case, professionals may edit for a number of publications to generate sufficient income.
Salary Range
Some fashion editors earned $30,000 per year in 2010; others earned much more. Fashion Schools.org estimates the median salary to be $47,000, while higher-end fashion journalists earned $68,000 per year in 2010. Top-level pay for fashion editors ranged from $70,000 to $100,000 in 2010. Salary ranges can relate to geographic location; fashion editors living and working in highly competitive markets including California and New York may earn more.
Perks and Challenges
Most fashion editors maintain at least some passion for fashion, reaping the benefits of an industry job in the form of early access to design "look books," occasional free samples, networking with industry professionals and perhaps traveling to fashion meccas including Paris, Milan and London.
Freelance editors working as independent contractors rather than steady employees won't receive the same level of benefits, including medical and dental coverage. In some cases, fashion editors assume financial responsibility for putting on fashion shows intended for their publications. Competition among colleagues can be fierce, and the fashion industry in general has never been known as warm and cuddly.
Training
Many fashion editors pair academic preparation, including four-year degrees in fashion journalism or fashion merchandising, with internship experience while still in college. Assembling clip books and portfolios of previously published works helps budding fashion journalists get their foot in the door.