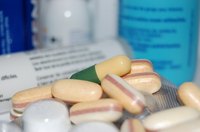 Historically, a pharmacist created many of his own compounds. In modern health care, a pharmacist provides medicines and medical devices typically created by pharmaceutical companies. The role of a pharmacist is to provide the medication to a patient while teaching the proper usage of a prescription. This function is called pharmaceutical care. The practice includes managing patient records, working with insurance companies and complying with patient privacy laws. In 2010, pharmacy careers are expected to increase 22 percent for the next 10 years.
General Salary
As of May 2008 the average salary for a pharmacist was $106,410 a year, according to the Bureau of Labor Statistics. The high-end of the salary range is $131,440 per year and the low end of the salary range was $77,390 a year. Although an entry-level pharmacist can expect to earn on the low end of the salary range, other factors such as industry and location can affect actual salaries.
Entry Level
An entry-level pharmacist can begin a career at $68,000 per year, according to Resume and Career Portal. This is a lower starting salary than provided by the Bureau of Labor Statistics, however, it provides another expected entry-level range. A variance exists because of the diversity in positions as a pharmacist. One person may work in a small-town pharmacy which accommodates fewer patients, another person may work at a chain pharmacy company while another may work within a hospital environment.
Other Considerations
Other factors such as hours affect the actual salary of a pharmacist. A pharmacist may work part time such as weekends or be required to work a third shift. Some pharmacies are open 24 hours a day and must have a pharmacist available. Also, hospital settings need pharmacists available 24 hours a day. Typically, the higher salaries are earned by pharmacists in department stores often referred to as chain retail stores, according to Resumes and Career Portal.
Related Industries
Pharmacists are also needed in industries such as laboratories and research facilities. Resumes and Career Portal states that a person working in one of these industries can expect to earn about $5,000 more a year than pharmacists in chain stores.