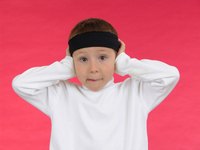 A quiet conversation in a room full of yelling children is practically impossible. Likewise, advertising communication in a world of media bombardment leads to lost marketing messages. In terms of marketing, "noise" is anything that prevents the consumer from appropriately perceiving a marketer's message. Marketing noise leads to wasted advertising dollars and confused or indifferent consumers. Thankfully, there are a number of strategies that marketers can use to reduce or cut through marketing noise.
Honest Marketing
Consumers distrust and then dismiss advertising messages that they perceive to be untrue. Making inaccurate statements about a product or service is about the same as telling the consumer to ignore your advertisement. Not only does dishonest marketing result in lost messages, it also hurts the brand's image as the dishonesty sticks in the mind of the consumer.
Targeted Marketing
Direct your advertising messages specifically to the people who would buy your product. This may take some research into who buys your product, what type of media platform (e.g., newspapers, TV or the Internet) they prefer and the kind of message that appeals to them. Crafting a targeted message means that your advertisement may be noise to everyone besides your customer base, so reaching out to the mass market will require a different strategy.
Different Marketing Tools
This strategy helps when attempting to reach a variety of target markets or the mass market. Consider all the tools in the integrated communication marketing (IMC) mix. IMC tools include advertisements, public relations, direct selling, personal selling and sales promotions. These types of communications can be combined to reinforce a message within a target market, or they can be diversified to reach people from a variety of demographics.
Call to Action
Ensure your advertising message tells the consumer what you want them to do. Your message might tell them to visit a website, call your phone number or buy your product. Calls to action cut through marketing noise because they direct the consumer to take the next step; this minimizes confusion and makes people pay attention to the message.
Brand Positioning
No source of noise is more troublesome than a louder competitor. If two companies sell the same product, then it's likely that they target the same markets and use a similar advertising strategy. In this situation, it may seem like the louder company would win the customers, but that isn't necessarily the case. Brand positioning is marketing that explains what sets your product apart from competitors. Advertisements that feature brand positioning rise above market noise through clever descriptions and unique information.