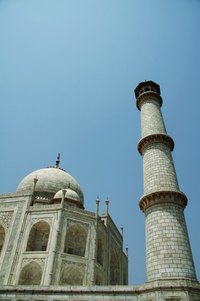 In the open ranges of the west, "branding" meant permanently marking cattle with a hot iron. It was designed to differentiate one rancher's cattle from another. Conceptually, tourism branding is not much different. Cities, states, regions and countries increasingly create specific brands for their destination to differentiate them from one another.
Definition
In marketing, a brand describes a sole product or service in an inimitable fashion. While other similar products or services may exist in the market, a brand differentiates each of these into one definable product. For instance, there are many soups on the market, but the specific name associated with a particular company is known as a brand. In tourism, branding is most often associated with destinations. There may be many warm weather winter destinations, but each of these destinations differentiates itself from the other via branding.
Features
Like most branding, destination branding relies on quality, specific attributes and reputation, but it adds another important component — emotion. Marketers want consumers to "feel" the destination, and many brand their product as "experiences" through words, visuals and sounds. Notable examples include "Incredible India," "Pure Michigan," "Miami and the Beaches" and "Las Vegas — What Happens Here, Stays Here." Whether it is discovery, solitude, sophistication or a bit of naughtiness, each conveys an emotional connection with the customer.
Strategies
In establishing the brand, marketers rely on research. Often consumer focus groups are utilized to determine a destination's most important attributes, but more importantly, how the destination makes them feel. Different themes may be introduced and analyzed by researchers to determine the optimum. Once identified, the theme is consistent in all communications, embedding the brand in the consumer's mind. Music is often associated with the brand that supplements the emotional connection. Marketers utilize brochures, television, radio, websites and direct mail to communicate brand awareness.
Partnerships
While a destination visitors' bureau may coordinate branding, other tourism suppliers such as hotels, restaurants, car rentals, airlines, travel agencies and attractions often join the branding campaign. Each entity supports the common theme. Governments may also contribute to the effort with coordinated promotions. It is also important for the destination residents to support the brand. According to CNN Tourism Advertising Solutions and Knowledge, the brand acts as a unifying force, aligning all of the people of the destination behind all that it has to celebrate with its culture, spirit, personality and future aspirations.
Considerations
Destination branding first debuted in the mid 1990's. Since then almost all vacation destinations — major and minor — have developed specific brands. But a recent article published by the Brand Culture Company warns that destination branding may become destination "blanding" with a "whole bunch of cute taglines, each more precious and less distinctive than the last." It goes on to say, "Turning your location into a brand isn't simply a marketing effort. It's the product of deep soul-searching, consensus-building, defining what your community really is all about, and aligning what you really are with what visitors really want. You may not figure it out overnight, and you may not end up with a clever slogan. But take your time, do it right, and you just might get a brand."