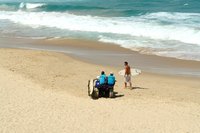 Western Massachusetts hardly brings to mind the image of a beach: it is an inland area of the Bay State covered with farmland and college towns. Yet western Massachusetts' location in a coastal state means that it has a wealth of salt and freshwater beach options for residents and visitors. There are many beaches within driving distance of western Massachusetts.
Ashfield Lake
If you aren't seeking a saltwater beach, there are plenty of lake beaches right in western Massachusetts. One such place is Ashfield Lake, a serene freshwater beach located in Ashfield, Massachusetts. The lake is open year-round, making it a fun swimming hole in the summer and a picturesque photo opportunity in the winter. The city provides free parking, making it a convenient day trip for residents of Ashfield and surrounding communities.
Revere Beach
A few hours drive east will bring you to Massachusetts' historic Revere Beach. Nestled just above the Massachusetts Bay, Revere Beach is both a beautiful and a relaxing place to spend a sunny day. Revere Beach is a saltwater beach surrounded by lighthouses, restaurants and rocky shoreline. Preserved by the state since 1895, Revere Beach has several miles of sandy spots for swimmers, sunbathers and sightseers who are impressed with its view of passing ships.
Bass River Beach
Known to some as Smugglers Beach, Bass River Beach is an ocean-side beach in the mid-Cape town of Yarmouth, Massachusetts. The beach is convenient to residents of western Massachusetts who want to see the Cape Cod seaside without driving all the way to the tip of the Cape. A long pier provides both a beautiful view and a cozy fishing spot. Boating, swimming and fishing are activities encouraged at this bustling beach, which closes after 10 p.m. daily.
Hampton Beach
Western Massachusetts residence willing to drive up to neighboring New Hampshire can enjoy the state's seaside Hampton Beach. Hampton Beach is a well-populated tourist spot with a lively boardwalk, large beach and pet-free sunbathing. There are many planned activities throughout the year such as summer movie nights and beach-side fireworks shows. As an added bonus, the beach water was given a five-star rating for cleanliness by the Natural Resources Defense Council, so you can feel safe that you're swimming in clean water.