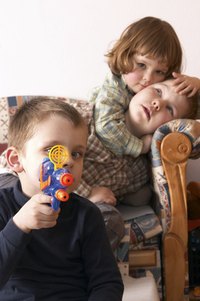 Many personal employers -- such as a single individual or family -- generally do not require educational references or certifications for nanny work. Many individuals simply require personal references from previous employers, background checks, or a work interview to see the interaction between you and the children. While not generally a requirement, educational references and certifications can help you to stand out from other applicants or allow you to work for multiple homes or institutions.
Diploma or Equivalent
In order to progress to higher learning institutes, a high school diploma (or the equivalent) is required. If you did not obtain a high school diploma, you can obtain a General Education Diploma, or GED, from a local college or federally funded program. Depending on your high school grade point average or GED results, you can earn valuable scholarships to help you complete your educational goals.
College Courses
College courses will help you to become a tentative and receptive nanny when caring for children. Classes such as psychology, sociology, and child development allow you to obtain a better understanding of the interaction you will experience with the child. Health and nutrition classes teach you how to nourish the children, along with making healthier eating choices. Some colleges offer special childcare courses to provide you with tips on how to deal with disorderly children, time management and other valuable skills. These courses may be a requirement when attempting to work for a nanny agency or similar nanny employment service. Internships are also available for some courses, depending on the college and area in which you attend. These courses, along with others, can help you to achieve a degree in child development.
Nanny Schools
If you prefer to take basic courses at your college without obtaining a degree, a nanny school or course is valuable if offered in your area. Prerequisites to this course include the college courses mentioned in Section 2, experience and motivation. Nanny schools will shape your knowledge and experience into valuable lessons that will help you throughout your nanny career. You may obtain a list of nanny schools in your area by contacting the American Council of Nanny Schools at 1-800-733-1984.
Certifications
Valuable certification programs such as CPR and first aid teach you how to deal with children when emergencies occur. A valuable class will help you to identify when medical help is necessary, and what to do until help arrives. These classes will provide you with training that will prepare you from the accidental situations that may occur while on the job, such as cuts, scrapes, burns, or choking. Depending on your state, you will have to recertify every one to two years to maintain a current certification.