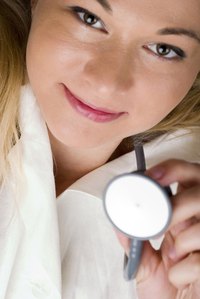 No one ever said that going to school to be a doctor is cheap. Doctors everywhere make very good salaries; however, the debt of new doctors from their undergraduate and graduate educations is staggering. Debt averages vary between types of schools and also depend in part on students' undergraduate debt.
Rising Tuition
New doctors are racking up over $100,000 in debt in many cases today. The cost of tuition is rising, and medical students are facing increases in their undergraduate debt that will add to the total costs of their medical school debt. Tuition rates at private medical schools increased by 50 percent (real dollars) between 1984 and 2004. Tuition increased by 133 percent at public medical colleges during the same 20 years, according to the American Medical Association (AMA).
Other Reasons
The American Medical Association reports that interest accruing on student loans while students complete their educations also adds significantly to doctors' educational debt. Non-traditional students are also entering medical school in greater numbers. The financial burden of raising their children means that they incur high debt when they attend medical school.
Numbers
Doctors of the class of 2010 carried an individual student debt burden of $157,944. According to information from the Association of American Medical Colleges on the American Medical Association's website as of January 2011, 78 percent of medical school graduates have at least $100,000 in debt. 42 percent carry a debt burden of at least $150,000. 85 percent of medical school graduates have some outstanding student loans.
How to Deal
Consider getting life and disability insurance if you are married so that, should something unforeseen happen to you, your spouse will not be stuck with your medical education debt. Pay off your higher interest rate loans first. Loans with interest rates below four percent can be put off.