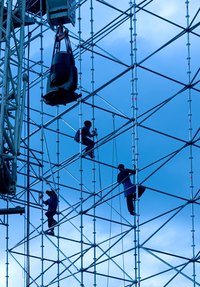 Contractor's all-risk insurance is insurance sold to construction contractors operating outside of the United States. It typically contains three parts. The first is very similar to a builder's risk policy sold in the U.S. A second part covers liability for third-party bodily injury or property damage arising from construction. The third part covers losses stemming from delay of construction and is usually optional, according to the International Risk Management Institute.
Care of the Works
Under most international construction contracts, builders are responsible for accidents and damage on the job site and any equipment on the site. This responsibility is ongoing until the project is complete. These are the very risks that contractor's all-risk policies are supposed to cover, according to Howrey LLP.
The Employer
A contractor's all-risk policies protect not only the financial interests of the builder, they protect his employer -- the person who hired the builder -- as well. These policies "safeguard the employer in the event that the contractor's financial resources are inadequate to meet its contractual liabilities in the event of a major loss." A contractor who sees a partial building collapse may have already spent huge sums on the job. He may not have the money to complete work without a comprehensive insurance policy.
All-Risk
All-risk means just that: The policy covers all risk of damage to the "works, plant, equipment and materials during the course of construction," unless that damage is excluded. A contractor's all-risk policy will contain language defining what is excluded -- these are known as expressed exclusions. There may also be implied exclusions. These may not be written down, but they are excluded anyway. These may include losses intentionally caused by the insured. You may have to consult a lawyer for a complete list of implied exclusions.
Period of Cover
Contractor's all-risk policies will generally include a period of coverage, but it differs from policy to policy. Some policies may be in force until the time the contractor leaves the site. Others may be in force for a longer maintenance period, after the owner takes control of the property but while the contractor continues to remedy minor defects.