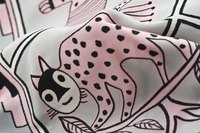 Whether it's the pattern on an upholstered couch or the texture on the fabric of an evening gown, artists work behind the scenes designing patterns for fabric and other textiles used in a variety of industries. Although many work for textile manufacturers, some create custom patterns for apparel or home furnishings manufacturers to aid in-house design teams.
Average Salary Range
Average salaries for textile designers range from $38,690 to $67,462, according to PayScale.com. This range represents the middle 50 percent of salaries reported in the field, and individual earnings may differ greatly. Experienced designers with more than ten years of experience typically earn more – $49,579 to $86,128 annually – than entry-level positions – $26,531 to $47,816 – although middle-experience salaries are closer to the average ranges.
Salaries by Location
Textile designers report radically different salaries around the country, and many may work part-time as consultants or freelancers for textile manufacturing companies. Textile designers in Boston fare the best of the cities included in Salary Expert's survey, earning $36,241 a year on average. Those in Indianapolis earn the smallest average annual salary, $21,627. Half of the cities surveyed by Salary Expert reported average annual salaries between $23,715 and $26,995 for textile designers.
Comparison to Graphic Design Salaries
Although many textile designers receive specialized training for fabric design, most have a basis in graphic design or fine arts. Because of this specialization, textile designers earn larger salaries than their counterparts in more traditional graphic design fields. Graphic designers receive median average salaries of $43,180, according to the Bureau of Labor Statistics. The midpoint for textile designers' salary range, $52,076, is 121 percent of average graphic designers' salaries.
Benefits
Many textile designers receive medical benefits as a condition of their employment. Medical benefits are most common, with 73 percent of full-time textile designers enrolled in an employer-sponsored health care plan. Only 35 percent receive vision coverage from their employers, although 58 percent receive dental coverage.