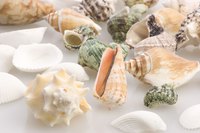 The beaches of northwest Florida attract myriad visitors, including those interested in shelling. Because beachfront communities offer many attractions, many people like to stay and explore all that is offered. A unique feature of the beaches on the Panhandle is the white sand dunes found along the Gulf Coast.
Pensacola Beach
Located on Santa Rosa Island, Pensacola Beach is a popular vacation spot on the Florida Panhandle. Visitors will notice the white sand and the abundance of activities. It's an ideal place to collect seashells, sunbathe and swim. Pensacola Beach offers a 47-mile stretch of beaches along the Gulf of Mexico. Those who prefer shallower and calmer water without waves can go toward the stretch of beach that faces the mainland of Florida. Most of Pensacola Beach is patrolled by lifeguards.
Destin
Destin is one of the top destinations in the world for shelling. The shoreline is made up of limestone. It captures thousands of seashells, some measuring up to 20 inches in length. In addition to saltwater fishing, visitors can take part in water sports such as windsurfing or dine at one of the several fine dining restaurants on the beach. Dolphins and other wildlife can be spotted from the shore.
Panama City Beach
Visitors and tourists enjoy shelling along the 27 miles of the Panama City Beach shore. This Florida Panhandle beach is known for its spring break getaways. However, all year long visitors will find plenty to explore. Guests have several public beach access points and can choose accommodations directly on the beach. Gulf World Marine Park features animal shows and entertains children and adults of all ages.
Johnson Beach
Johnson Beach is in the Perdido Key area of the Florida Panhandle. This beach has wheelchair-accessible facilities, picnic shelters and a concession store. It is also a popular destination during spring and summer. Unlike the other beaches in northwest Florida, Johnson Beach is on a barrier island with lots of plants and wildlife. Shells can be found in the water; however, if live animals are in the shells, it's illegal to remove them.