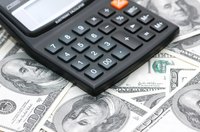 Accountants are the butts of many jokes about boring jobs, but these jokes don't capture the reality of the experience. In fact, accounting provides opportunities for a certain amount of satisfaction and creative work along with the drawbacks that come with any job. For someone who enjoys math and attention to detail, accounting can be an enjoyable way to make a living.
Job Security
Accounting is the primary method that companies use to keep track of their finances, profits and losses. Accountants are central to the health and growth of any company, and their positions are relatively secure. There are many more creative jobs in the world, but jobs in the arts are inherently unstable because their continuation depends on public interest. Aligning your career with a company's financial self-interest is a good move if job security is a priority for you. In the rare cases where accountants lose their jobs, they have much less difficulty than people in other fields finding a new position.
Good Pay
The pay for an average accountant ranges from $35,000 to $51,000, according the website PayScale. Senior accountants and accountants who secured positions with greater authority make larger salaries than this. Accountants in full-time positions working for established companies also receive benefits such as pensions, health care and sometimes profit sharing. Some accountants become independent and start their own firms. While this is riskier than having an established job, if they are successful they may make substantially more money, particularly if they expand their business and hire other accountants to work for them.
Long Hours
Accountants often earn their good pay by working long hours, evenings and sometimes weekends. To some extent accounting is a seasonal pursuit, with more work occurring around tax time and during active and crisis times in a business such as during a takeover or merger. In a situation where millions of dollars are riding on the completion of a deal within a certain time period, accountants may experience a great deal of pressure to complete their work by a certain deadline.
Lack of Exercise
Nearly all the work of accounting occurs on a computer. This fact combined with long hours of work can lead to a sedentary lifestyle that is not healthy. Accounting is not an appropriate career for people who don't enjoy desk jobs, in fact it could be described as the ultimate desk job.