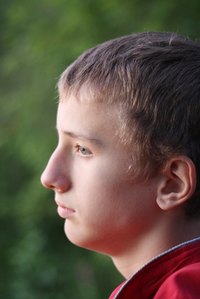 Most probation officers are government employees. Due to the nature of the work, probation officers often have nonstandard schedules. On average, probation officers handle 20 to 35 cases at a time, but in certain jurisdictions caseloads may be as high as 100 per. A juvenile probation officer's salary varies by geographic location and may depend upon job level, experience and qualifications.
Duties
Juvenile probation officers monitor underage offenders who have been sentenced to a supervised probationary period instead of prison. Probation officers may monitor an offender's whereabouts either in person or via an electronic device worn by the offender. Probation officers provide life improvement services for juveniles, often arranging for job training and counseling for problems like substance abuse or anger management. A juvenile probation officer's court duties include attending hearings, testifying, filing progress reports and making sentencing recommendations.
Qualifications
Most probation officer positions require a bachelor's degree in a behavioral science or criminal justice field. It is increasingly common for positions to require a master's degree. Entry-level positions sometimes require one to two years of experience in a human services field, so candidates who have completed internships may have a competitive advantage. Some states require completion of a certification exam. Almost all probation officer positions require a valid driver's license and good understanding of computers and technology.
Average Wages
In 2009, the national average wage for probation officers was about $50,000 annually. Officers in the lower 10th percentile averaged about $14 per hour or $30,000 per year, while those in the upper 90th percentile made about $38 per hour or $79,000 per year. Payscale.com reports salaries ranging from about $31,000 to $46,000, with bonuses of about $1,000 to $2,500, while StateUniversity.com reports a median salary of about $40,000 per year.
Wage Variables
Schools and state and local government agencies are among the highest-paying employers for probation officers, with wages averaging about $50,000 to $52,000 per year. Psychiatric and substance abuse hospitals pay probation officers an average wage of $41,000 annually. California is the top-paying state, with average annual wages of more than $77,000, followed by New Jersey at $63,000 and Minnesota at $61,000.