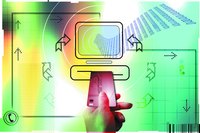 Business owners once had very few tools at their disposal: little more than a basic adding machine and paper records. Today's business owners can complete their duties much more effectively than their predecessors with an array of technological tools at their disposal. By using these tech-tools, companies and employees enjoy a number of business-related benefits.
Communication
Business once consisted almost completely of face-to-face meetings, or snail-mailed correspondence. Today, technology allows business owners and workers to communicate much more effectively. Contemporary businesses use an array of communication technologies -- including email, the telephone, fax, teleconferencing and even online meeting software -- to communicate with each other rapidly and engage in meetings without dealing with the cost of travel.
Speed Increase
Tasks that once required an extended period of time to complete can now be done rapidly. Tasks like record-keeping and inventory once proved tedious and painstaking, but computers and other technology can now accomplish them in a manner of minutes. The increase in speed not only makes tasks easier to complete, it also makes them more cost-effective, since employers do not have to pay employees for the time it once took to do these things.
Improved Accuracy
When figures are calculated or records kept by hand, errors become almost inevitable. While technology doesn't completely eliminate the possibility of error, it does greatly decrease the likelihood of inaccuracies. Accuracy plays a key role in many businesses, as the data calculated often aids in important business decisions.
Multi-Media Presentations
Communicating ideas to customers and fellow workers becomes significantly easier with the aid of technology. Business men and women today can create multi-media presentations that convey their ideas with relative ease. Because of the ease with which workers can create these presentations, they can explore more ideas more quickly and potentially make better decisions as a result of their ability to see more options.
Professional Products
Creating professional printed works once required the assistance of a print shop, and an accompanying cost. With today's technology, workers can create professional looking products in house, allowing them to increase their reputability within the business world and impress clients with their products and promotional materials.