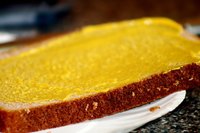 A mustard plaster is a folk remedy that's been used for many centuries as a treatment for a variety of ailments. Traditionally, it has been used to treat not only chest congestion and respiratory symptoms, but also arthritis and assorted muscle aches and pains. Mustard plasters can easily be made for use as a cold remedy with only two ingredients -- mustard seed powder and flour. However, as with any treatment, consult your doctor before using a mustard plaster.
Benefits
Mustard plasters are associated with many benefits, according to Life Research Universal. Mustard plasters increase heat, circulation and perspiration in affected areas. The heat generated by the plaster helps to thin and draw out mucous from the sufferer's lungs, decreasing the respiratory discomfort caused by colds, flu, bronchitis and pneumonia. It's this heat that also works on sore, aching muscles to reduce and alleviate pain.
Drawbacks
The heat generated by the application of a mustard plaster has the potential to burn the skin, or make it raw. Because of this, once a mustard plaster is applied, the recipient's skin must be consistently monitored to ensure that it isn't negatively affected. The mixture tends to redden the skin, which is normal, but the plaster should be promptly removed if the recipient complains of discomfort.
How to Make a Mustard Plaster
You can make a mustard plaster to use as a cold remedy by mixing 1/2 teaspoon of mustard seed powder, which is available in many grocery stores, with 1 tablespoon of flour. If desired, you can grind your own mustard seeds at home to make powder. Add enough water to the dry ingredients to form a paste. If you accidentally use too much water, add another small amount of flour until you achieve a paste-like consistency. You can alter the amount of mustard seed powder, depending on the length of time you'd like to have the plaster on the skin, and the sensitivity of the recipient's skin.
How to Use a Mustard Plaster
Find a large swath of fabric, such as flannel, that will cover the entire chest or back when folded in half. Spread the mustard plaster mixture on one half of the fabric and fold the remaining fabric over, so that the paste is sandwiched between two sheets of fabric. Warm the plaster, still contained within the fabric, in an oven or microwave, if desired. Don't overheat it, because this will cause the flour to harden. Place the mustard plaster pack on the recipient's chest or back, and let it sit for 15 to 30 minutes. The plaster can be left on longer, if the ratio of mustard seed powder to flour is very weak, but be sure to frequently assess the condition of the skin throughout the treatment.