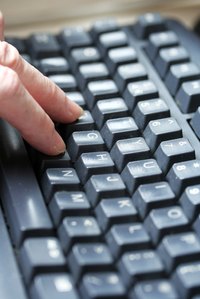 Clerk typists, who are more commonly known as word processors, enter data into a computer. They also produce reports or other documentation that can be displayed online or printed in hard copies. Many also perform general office functions, such as filing records, researching business information or filling in for receptionists.
Duties
Clerk typists prepare written reports, letters, mailing labels and other text materials. They may set up highly complicated tables and layouts by pulling information from databases or online sources, or by scanning them from printed materials. They may also copy documents, bind them with covers and distribute them in-house or by mail. Though they often work in offices, modern communications technology allows many of them to telecommute from remote locations.
Training
A high school diploma is the minimum educational requirement for clerk typists; many are trained on the job. Good spelling, punctuation and grammar are important. Familiarity with the computer, office applications, and standard office equipment and procedures is also necessary. Formal training in word-processing and spreadsheet programs is available from high schools, business schools and community colleges, as well as from Internet courses, books and tapes.
Salaries
Clerk typists make a median salary of $32,590 annually, with a range of $22,640 to $46,690, as of May 2009, according to the Bureau of Labor Statistics. This is equal to $15.67 per hour, with a range of $10.89 to $22.45. The biggest employer of clerk typists is local government, with almost 23 percent of available positions. It pays better than the median at $16.89 per hour, or $35,130 per year. The highest-paying employer is natural gas distribution, with compensation at $28.01 per hour, or $58,250 per year. However, with only 280 total positions, jobs in this industry are difficult to get, according to the BLS.
Outlook
The BLS sees jobs for clerk typists declining by 6 percent from 2008 to 2018. The growth of computers has made it easier, more convenient and more socially acceptable for managers and technical personnel to perform their own word processing and enter their own data. Only highly repetitious or specialized work is relegated to clerk typists. The best prospects are reserved for those with the highest technical skills, which must be continuously updated to keep up with advancing technology.