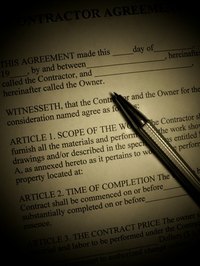 For an employer, it is crucial to manage risk in the workplace to ensure the safety of employees, inventory and facilities. By identifying and making a plan to manage the risks and hazards in your workplace, you can reduce chances of injury. A variety of risk assessment tools, such as forms and maps, are useful to help spot, analyze and report potential issues.
Assessment Form
One of the easiest ways to assess risk in your workplace is to use an assessment form that you have designed to suit your industry and operations. First, list the risks and hazards that exist around your workplace; include standard hazards, such as spills or loose cords, and risks that are more specific to your type of business, such as machines with unexpected moving parts. Then, list the people or groups of people who will be at risk from each of your identified hazards. In a third section of the form, list the controls that are in place to handle each hazard and make a note if additional security is needed.
Risk Map
Risk mapping is a way to map out the danger spots, risks and hazards in your facility. Start with a blank floor plan of your building that shows all of the architectural features; if you operate a shop floor or an area with complex machinery, get a second map that shows the layout of the production line in more detail. On your maps, note places that present risks from chemicals, slips, electricity, equipment or industry-specific operations. With the visual representation of risk, you will be able to identify areas that are particularly dangerous.
Staff Interviews
Because your employees often have the most direct exposure to risks in your workplace, they can be a valuable source of information during the risk assessment process. Hold staff interviews with those in different departments to get insider knowledge of the dangers and hazards they face that you might not be aware of. Hold individual interviews and group meetings to get a sense of the group's level of concern around each hazard.
Regular Review
Regular review of hazards is a crucial part of keeping your risk assessment program current. Create a set of review forms that are designed to show the progress between reviews. In the first section, include your findings from the initial risk assessment; in subsequent sections, leave room to add or remove hazards, make notes about changes to each hazard, or mention controls that have been implemented to reduce risk.