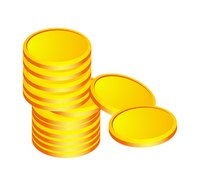 Many investors feel that keeping a portion of their portfolios in gold can serve as a hedge against inflation and the uncertainty of the stock and bond markets. Although gold can be a solid investment, would-be investors need to be on the lookout for scams that could leave them poorer instead of richer. Using exchange traded funds, mutual funds, gold mining stocks and gold content coins provides investors with a direct way to participate in the gold market without the high markups and high risks.
Exchange Traded Fund
One of the purest ways to invest in the future of gold is to purchase an exchange traded fund (ETF) that directly tracks the price of gold. One of the biggest and best-known gold price ETF trades under the ticker symbol GLD. Investors can buy and sell this ETF in real time throughout the trading day, allowing them to lock in their profits or buy additional shares when the price of gold dips.
Mutual Funds
Most major mutual fund companies offer gold and precious metal mutual funds. Some of these funds are pure plays in the gold market, investing in the stocks of gold mining companies, jewelry makers and other companies whose fortunes rise when the price of gold goes up. Other funds combine investments in gold with stakes in silver, platinum and other precious metals. Be sure to read the prospectus and annual report carefully for a list of current investments and asset mixes.
Gold Mining Stocks
If you prefer to purchase individual stocks, gold mining companies can be a good way to profit from the price of gold. The shares of gold mining companies can do quite well in an environment of rising gold prices, since the value of the gold they mine is that much higher. You can find information about gold mining companies in financial publications and online at financial websites. You can also use the stock screening tools available from your broker to sort out stocks involved in the gold mining industry.
Gold Content Coins
If you prefer to own physical gold, buying gold content coins can give you more value for your money. If you choose collectible coins instead, you could face a large markup over the value of the actual gold the coin contains. In addition, the value of collectible coins varies quite widely, and your coins could be worth more or less when you sell them, regardless of what happens to the price of gold itself. By choosing gold content coins instead, you can avoid these issues and profit from increases in the price of gold. You can buy gold content coins from coin dealers in your area, or directly from your broker in many cases. Just be sure to shop around and compare prices, since there can be a markup even on pure gold content coins.