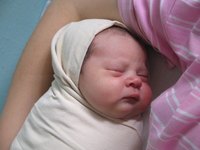 A neonatal nurse is a trained professional who focuses on care for newborns in the first 28 days after their birth. The profession suits prospective nurses who have compassion, patience and emotional stability, and a desire to care for newborn babies. Neonatal nurses must communicate well as part of a team of doctors and other nurses, and they need to be quick on their feet for emergency situations that may arise.
Definition
Neonatal nurses provide care to newborn infants who are in three different classifications of care. Level 1 care involves treating healthy infants. Level 2 includes the care of sick and premature infants. Level 3 may require specialized care to infants who are very ill or severely premature, or who are unlikely to survive without certain technical procedures. Nurses in these fields examine medical histories, perform and interpret tests, administer medications and provide various care procedures. Neonatal nurses may also provide education to caregivers and patients and conduct research to better care for their young patients.
Training
At the minimum, neonatal nurses require a bachelor's degree in nursing and must become licensed as a registered nurse, or RN. To become a registered nurse, prospective employees must pass the NCLEX-RN, the national licensing exam for RNs. To be considered for a neonatal nursing position, licensed nurses must gain at least three years of experience in a hospital and become certified as either a Neonatal Resuscitation Provider or in the Neonatal Intensive Care Nursing program. These certifications can be obtained in some graduate programs and at certain teaching hospitals. With additional education including a master's degree, neonatal nurses can become neonatal nurse practitioners.
Salary
A registered nurse who specializes in neonatal care makes a median annual salary of $50,919, according to a survey of 1,075 nurses conducted by PayScale as of January 2011. The salary of a neonatal nurse can expect to rise $20,000 annually over the course of 20 years of experience. Hospitals that have more beds and that contain a neonatal intensive care unit -- or NICU -- tend to have neonatal nurses with higher salaries. Additional education and an upgrade in title to neonatal nurse practitioner can lead to a large increase in salary.
Neonatal Nurse Practitioner
A neonatal nurse can become a neonatal nurse practitioner by obtaining a master's degree and getting certified as a Certified Neonatal Nurse Practitioner. This leads to the ability to perform some tasks that are typically reserved for neonatal physicians, such as prescribing medication. The median annual salary for a neonatal nurse practitioner is $79,703, according to PayScale's 2011 statistics. .