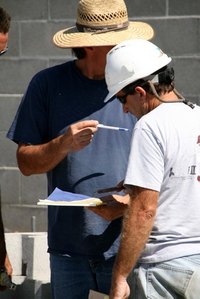 Managing desk workers in an office environment takes a much different set of skills than managing construction workers on a job site. Construction managers must juggle traditional management roles with an intimate knowledge of the construction industry necessary to maintain a project's safety, financial viability and construction standards. Many colleges offer programs in construction management, but some managers are promoted from foreman positions.
Average Salary
The median annual salary for construction managers is $95,567 as of January 2011, according to Salary.com. Half of all construction managers earn salaries between $81,473 and $115,954, and the best compensated site managers earn $134,516 or more each year. Construction managers who earn salaries in this range have a bachelor's degree in the field as well as at least five years of experience in the industry.
Salary by Experience
Although large salaries are achievable in the construction management world, managers must work their way up to positions and projects that pay premium wages. Salaries for building and construction managers increase steadily with the amount of experience they have. Managers with less than a year of experience earn average annual salaries of $50,000 as of January 2011, according to Salary Expert, and those with one to four years on the job average $60,000 per year. After 10 years in the industry, a worker may expect to receive $81,000 a year, while those with more than 20 years in construction earn $95,000 or more each year.
Education and Salary
Although construction workers may work their way into construction management positions, the more formal education a building or construction manager has before entering the industry, the higher his salary. Construction managers with a high school diploma earn average salaries between $36,161 and $46,491 each year as of January 2011, according to PayScale.com. Those with a bachelor's degree in construction management fare much better, earning $47,166 to $79,524 annually, while those with an MBA who work in the industry earn $60,000 to $117,916 each year.
Top-Paying Industries
Construction managers who find jobs in key industries may make much more than average for their positions. Those who work for professional, scientific and technical services earn the highest average salary in the industry, $142,550 as of May 2009, according to the Bureau of Labor Statistics. Those who work in the oil and gas industry, for insurance companies or credit intermediation firms also earn salaries that are much higher than the national average.