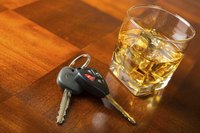 One of the worst things that can happen to a car owner is to be convicted of driving under the influence. Not only can you face fines, substantial legal fees and possibly jail time, you likely will have to pay a great deal more for auto insurance. How much more depends on a variety of factors, including the rules and rating structure of your insurance company as well as the types of coverage you elect to carry going forward.
Discovering the DUI
A DUI cannot impact your insurance premium unless your insurer discovers it -- but it almost certainly will. Auto insurers typically check the driving records of their policyholders on a fairly regular basis, so a DUI conviction and subsequent license suspension will become apparent at that time. Also, if you are involved in a DUI-related accident, your insurer is sure to discover this during the claim investigation. Some states also require a SR-22 for the restoration of a driver's license, which is a form issued by an insurance company that shows proof of insurance coverage.
Policy Cancellation
In many cases, the discovery of a DUI will result in the cancellation of your policy. This will force you to obtain coverage with a high-risk carrier that specializes in insuring drivers who have poor driving records or may have had a series of at-fault accidents. If you must take this route, you will pay a much higher premium than you've been accustomed to. High-risk premiums can be as much as two to three times higher than standard rates.
Added Surcharges
If you are fortunate, your insurance company will not cancel your policy. If you've been a policyholder for many years and have an otherwise favorable claim history, your company could decide to add a surcharge to your premium instead. This can minimize the damage, as your rate may only increase by 25 percent or 30 percent, depending on the rules of the insurer and your state. The surcharge may drop off after a relatively short period of time, assuming you've had no additional problems.
Getting New Coverage
If your company has dropped you because of a DUI, or levied a surcharge, you could shop around for the most affordable coverage. Rates can vary greatly from one insurer to the next. To keep rates as low as possible, you may need to carry the minimum coverage limits required by your state. The lower the limits you carry, the more you may have to pay out of your pocket if you are involved in an accident.