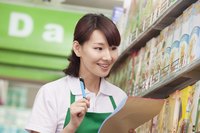 Illinois law requires employers who pay their workers an hourly wage to abide by certain requirements for minimum wage and overtime pay. State regulations go above and beyond federal legislation, requiring meal and rest breaks at certain times. These laws don't apply to executive, administrative or professional employees, who typically are paid a salary. They also don't apply to certain seasonal agricultural workers or to commission-based sales employees.
Minimum Wage
Hourly workers must be paid the state minimum wage, which in Illinois is $8.25 as of 2015. State law allows employers to pay 50 cents less per hour to employees under 18, or to adults who have been working for that employer fewer than 90 days.
Employees who earn tips, such as restaurant servers, have a different minimum wage, calculated at 60 percent of the regular state minimum wage. The same 50-cent introductory wage applies for tipped employees as for other employees.
Some municipalities may have a higher minimum wage than the state. For example, Chicago passed legislation to gradually increase the minimum wage in the city beyond the state's requirements.
Regular Hours and Overtime
Illinois prohibits employers from requiring employees to work more than 40 hours in one workweek without paying them time and a half for any additional hours. The state carves an exception for employees without high school diplomas who need training or education in basic skills such as math and reading. Employers can require up to 10 additional hours per workweek without paying that employee time and a half.
While some states require employers to pay a minimum number of hours if an employee reports for work but no work is available, Illinois has no such law. Illinois employers only have to pay employees for the time they actually worked.
One Day of Rest
Illinois law requires employers to give full-time workers at least one 24-hour period off in each calendar week. Some exceptions apply for seasonal agricultural employees, security guards, or employees required to fix machinery that could endanger the safety of other employees.
The rule requiring one day off for every seven does not apply to part-time workers if they are scheduled for 20 hours or less per week.
Meals and Breaks
With a few exceptions, Illinois requires employers give all employees scheduled to work 7 1/2 hours or longer a 20-minute meal break. While these breaks generally may be unpaid, employers have to pay any employees required to work while eating, or who aren't entirely relieved of their duties while eating.
Illinois law grants hotel room attendants two additional 15-minute breaks if they work at least seven hours. These breaks must be paid, and the employer must provide a separate break area with seating.