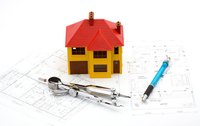 Couples going through a divorce often face difficult questions about what they can or cannot do with their property. No two divorces are alike, and state laws differ widely about what you are allowed to do with your home before a divorce is finalized. Your rights to your home in a divorce is a complicated issue, one that requires the advice of an experienced family law attorney, so always talk to a lawyer if you need help with a divorce question.
Divorce Filing
As soon as you file for divorce, any property owned by you or your spouse becomes subject to the divorce proceedings and the orders of the divorce court. A person filing for divorce must typically include a proposed property settlement, child custody and alimony terms as part of the filing. These terms typically propose what happens to the couple's property before the divorce is finalized and include the right to live in the marital home.
Temporary Orders
Divorce filings typically include temporary provisions limiting the rights of both spouses to dispose of marital property. This means that the spouses cannot, for example, decide to sell a home in the middle of a divorce unless the court gives its express permission to do so. The court can also issue temporary orders that dictate who gets to live in the home. The court can issue these orders on its own or after holding a hearing where both parties get to plead their cases.
Property Settlement
All property owned by the couple must be accounted for in the final divorce decree. The court takes into account all property owned by either partner at the time of filing for divorce and divides it according to the laws of the state where the divorce is filed. The couple has the right to come to terms on their own and make arrangements about who gets to live in the house during and after the divorce, though the court will make these determinations if the couple cannot agree.
Restraining Orders
In some divorce cases, one spouse may ask the court for a restraining order against the other. These are most common in divorces where domestic violence or abuse is present, though such restraining orders can be issues in any divorce. Restraining orders, also known as no-contact orders or protective orders, limit the type and nature of contact between the parties and can limit a person's right to live in the home, even if the person has never been convicted of a crime.