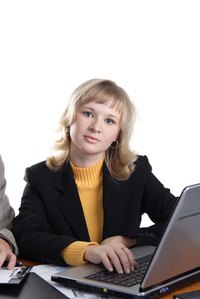 Whether this is your first interview or your 10th, meeting with potential employers can invoke a host of feelings, from nervousness to shyness. Practice certain tactics for a successful job interview and to ensure that you make a good impression. Good interviewing skills will help you get your foot in the door.
Do Your Research
Don't walk into an employer's office without knowledge of the company or the position that you're interviewing for. It doesn't take long to read a company's bio or "about us" page on their website or surf the Internet for news about the corporation. Employers want to know about you, but they will also test your knowledge of the company and position. Anticipate questions such as, "What do you know about our company or product?" The inability to answer this question shows lack of preparation.
Do Practice Your Answers
Along with testing your knowledge of their company, employers will use a series of questions to decide whether you're a good match for the position. Think about the company and position and then brainstorm possible interview questions. Take it a step further and think of good answers to commonly asked questions. In other words, how would you respond if a potential employer asked, "Why did you leave your last job? How will you benefit our company? What are your long-term goals?" Articulate, well-thought-out answers will leave a good impression.
Don't Be Late
Don't arrive late or dress too casual for the job interview. Even if the company welcomes a laid-back, casual dress environment, dress to impress when meeting with an interviewer. Consider a business suit, slacks, dress, blazer or pantsuit. Cover up tattoos and remove body piercings, except for earrings. Do not show up late for the job interview. Employers may interview several individuals in one day, and arriving late can push back other interviews. Show up at least 10 minutes early.
Do Appear Confident
Control your nerves during the interview, because employers look for individuals who are strong and confident. Talk about your achievements and strengths, but avoid an aggressive attitude or bragging about past accomplishments. This can turn off an employer. Speak clearly, offer a firm handshake, give good eye contact and show enthusiasm.