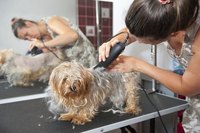 It takes a gentle, patient hand to provide a good haircut for a dog, especially one with a thick coat. Having the right tools of the trade can make all the difference. Choose your clippers carefully, making sure they're sharp, so as not to scrape your dog, and not prone to overheating so you don't burn his skin.
The Qualities of Quality Clippers
A thick coat can be a challenge to groom, particularly if your clippers aren't up to the job. Going back and forth over your dog's coat to get the right length is tiresome -- for you and your pup -- and too much clipping in one spot can be painful for your dog. When it comes to dog clippers, all motors are not created equal, and there are some recommended qualities to be on the lookout for when you're buying a set. If your pup sports a thick coat, a universal geared motor is the way to go because its higher power and torque will get through thick or matted hair. Other considerations include a corded versus cordless clipper, the weight of the clippers and the comb options. If you have a big dog who's going to take a while to groom, or he tends to resist grooming, a heavy set of clippers may become burdensome. There are several manufacturers of clippers, including Wahl, Andis and Oster, that provide a wide range of options so you can find the right set of clippers for you and your dog.