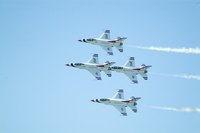 Air Force members receive a base pay determined by their military rank and years of military service. Additional pay and allowances, such as family separation pay, are also afforded to some Air Force members based upon duty location and assignment. The Air Force is aware that this money does not make up for the fact that the member must be separated from their dependents; it is simply an allowance to help pay for extra expenses that might be incurred while the airman is away from home.
Amount
Family Separation Allowance (FSA), also known as family separation pay, is paid at the rate of $250 per month. This amount is the same regardless of rank. FSA starts on the 31st day of duty that the member is separated from their family and is not pro-rated; the member receives the full $250 even if they are not deployed for the entire month.
Temporary
Temporary FSA is paid if an Air Force member is temporarily stationed away from their permanent assignment for over 30 days and the member's family cannot reside with them. Such situations include overseas deployments to combat zones and temporary assignments to military training schools.
Restricted
Restricted family separation pay is paid to members if they are stationed in a place where dependents cannot accompany them. In addition, the member's family must not live within the vicinity of the member's permanent duty station. This includes certain overseas locations, and even some places in the United States.
Ship
Family separation pay is given to military members who serve on-board a military ship that is away from its home port for more than 30 days. It is a little-known fact that many Air Force members serve in different capacities on Navy ships, and are therefore eligible for this type of FSA.