Pets can have very positive effects on nursing home residents. They share affection, engage people and give residents something for which to care. Pets help warm the hearts of an often bored, depressed and under-stimulated population. In recent years, nursing homes have largely come to embrace pets as staff members, visitors and occasionally as residents.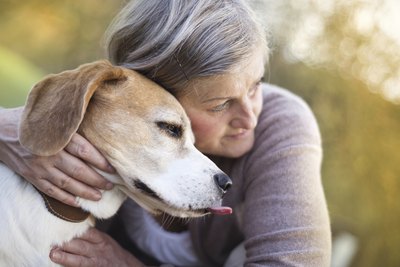 Therapy Dogs
Many social workers, physical therapists and occupational therapists adopt dogs and put them through therapy-dog training. Therapy dogs are often considered staff members at their facility and may even be given special jackets or tags to identify themselves as such. Their training teaches them to interact gently with residents, to sense people's comfort with them, and not to be afraid of wheelchairs, walkers and canes. Therapy dogs are used in calm exchanges of affection and provide company to the elderly. Some also learn to assist with basic tasks such as fetching needed items, flipping light switches or calling for emergency help.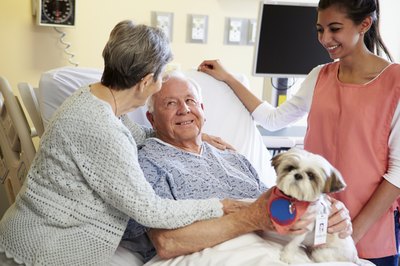 Visitors
Despite considering nursing homes or skilled nursing facilities to be medical facilities, most states leave regulatory room for pets. Many skilled nursing facilities allow humans to bring four-legged visitors. While rules vary slightly, pets must be controlled -- either by leash or carrying crate for cats -- and have current vaccinations. Pet owners should bring proof of health and vaccination on at least the first visit. Before bringing an animal to a nursing home, check with the administrator or director of nursing about their specific policies.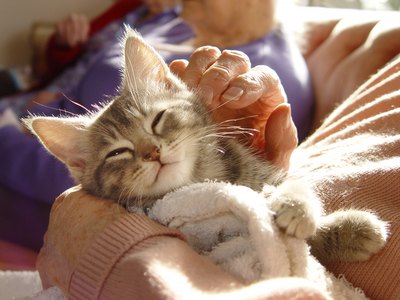 Resident Pets
When someone with a beloved pet moves into a nursing home, it can be very painful and depressing to separate from a dear companion; that's why some progressive nursing homes have begun allowing pets as residents. This remains a more common practice in assisted living facilities where residents have their own mini-apartments, rather than rooms lining shared corridors. Typically, newer facilities designed with pet residency in mind offer the option. These usually cost more and involve private pay. Many such facilities also require the resident to be functional enough to perform a significant amount of the caretaking duties. Pets must have an appropriate temperament to reside in a facility without impairing the duties of staff or safety of others.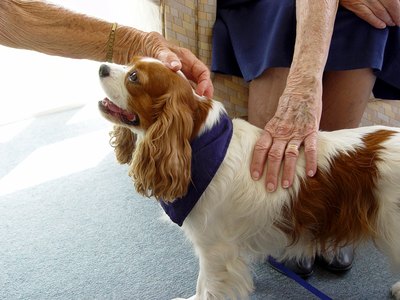 Locating a Facility
Shopping for a nursing home is an involved process, pets or not, although numerous resources can help you toward your goal. The American Association for Retired People (AARP) offers highly reputable, free nursing home and assisted living guides for locations throughout the country. Most state departments of health have free online and print publication listings of all licensed nursing homes, including the features of each. Community organizations for seniors and hospital social workers in your area often can provide insight about facilities in your area.