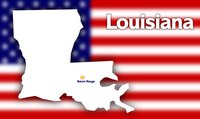 Louisiana is a state located in the southeastern United States, defined by its marshland habitats and semi-tropical climate. Most geologists divide the state into two primary and distinct regions: the uplands in the northern quarter of the state, and the alluvial marshlands to the south. Louisiana shares a border with the Gulf of Mexico, meaning part of the state falls within a coastal environment. The varying topography in the northern half includes hills and small mountains, but are still well south of Arkansas' Ozark Mountain range.
Coastal Land
Louisiana has approximately 397 miles of coastline along the Gulf of Mexico, a major body of salt water which flows from the Atlantic Ocean. Thus, a significant region of the state near the coast is comprised of coastal flats.
Rivers
The Mississippi River, the longest river on the North American continent, flows through the state of Louisiana, eventually terminating at the Gulf of Mexico. Several tributaries, bayous and larger rivers, contribute to the Mississippi in Louisiana, creating long strips of thickly vegetated riparian habitats. Overall, including the Sabine River, which forms the border with Texas, and a series of landlocked bays, Louisiana has the largest system of interconnected, navigable waterways in the nation.
Marshlands
The ecological regions outside of the Mississippi River's immediate vicinity, known as the Mississippi River Delta, are distinguished by the heavy deposits of silt cast off by the river as it slows before its termination in the Gulf of Mexico. The high salinity of these deposits creates the salt marshes which predominate much of the southern part of the state.
Uplands
From the Gulf of Mexico heading north, the elevation of the landscape gradually rises. The highest point in the state is Mount Driskill, at a height of 535 feet. Driskill is in the northwestern corner of the state. Compared to the flat south, the hills of the north are a significant change in landform, but the region is not considered mountainous.