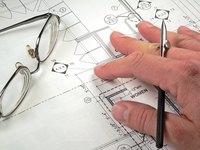 Although copywriting a work or trademarking a corporate logo is a relatively straightforward process, investigating patents is a much more difficult and time-consuming process. Patent agents, also known as patent examiners, are charged with inspecting inventors' patent claims to determine if they're workable and not infringing on previously filed patents. Most patent examiners are experts in a scientific field such as chemistry or physics and rely upon that knowledge as the foundation of their work.
Average Salary
The average salary for a mid-level patent agent is $83,426 as of January 2011, according to Salary.com. Half of all patent clerks with this level of experience earn between $71,893 and $100,740 each year, although the most compensated earn $116,504 or more each year. Patent examiners who work at this salary must possess a bachelor's degree in their field and have two to five years of experience in that industry before starting their career in patent law.
United States Patent and Trademark Office Salaries
The bulk of patent clerks in America work for the United States Patent Trademark Office. As federal employees, they receive standardized salaries based upon the Office of Personnel Management's General Schedule pay scale. Patent examiners may be employed at the GS-5, GS-7, GS-9 and GS-11 through -15 level. An entry-level patent clerk on the first step of the GS-5 scale earns $41,969 annually; that pay grade's highest earnings are $54,555 as of fiscal 2010. Examiners who work at the GS-15 level may earn $132,505 to $155,500 annually.
Patent Resarch Clerks
Before inventors or companies submit a patent to the Patent and Trademark Office, many choose to research existing patents to ensure their submission doesn't unintentionally infringe on an existing patent. To do so, they hire patent searchers to comb patent records. Patent searchers receive average annual salaries that range from $37,311 to $79,179 as of January 2011, according to PayScale. This earnings range represents the middle 50 percent of salaries reported to the website, and individual earnings may be considerably higher or lower.
Salaries Around the Country
Registered patent agents may earn vastly different salaries depending upon the part of the country in which they live. Those who work in New York receive average annual salaries that are nearly $20,000 more than the next highest city, and earn $140,222 annually as of January 2011, according to Salary Expert. The city with the lowest-paid salary agents is Indianapolis, where the average annual salaries is $89,461.