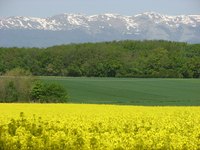 For those who have a background in chemistry, love working in a lab and have a passion for environmental issues such as food safety, becoming an agricultural chemist may be the right career path. Agricultural chemists focus on improving crop yield for farmers through chemical means with a focus on biological effects on people, animals and the environment.
Job Description
Agricultural chemists work in a variety of areas, depending upon the employer and their aims. The American Chemical Society lists areas of work in pest and herbicide control through chemical compounds; manufacturing said chemical compound; researching the effects of a compound to improve its efficiency and safety. The ACS notes that some agricultural chemists focus on the hot topic of health and environmental effects and concerns of such chemical compounds.
Qualifications
The Bureau of Labor Statistics (BLS) states that a bachelor's degree in agriculture science is sufficient for entry-level positions, but the American Chemical Society recommends a master's or Ph.D. for increased attractiveness to employers and for any research positions. The ACS also notes that agricultural chemists must have an interdisciplinary understanding of chemical reactions, biology and ecosystems in order to properly do their jobs. As such, those aspiring to be agricultural chemists should also have strong communication and interpersonal skills since they will most likely work in teams.
Salary
The BLSs lists the median annual wage of agricultural and food scientists as $59,520 a year as of May 2008, with the middle 50 percent of scientists earning between $43,600 and $81,340 that year. The BLS website reports a mean or average wage of $64,370 for agricultural scientists in May 2009. In comparison, the American Chemical Society says that the average agricultural chemist with a bachelor's degree is looking at an annual staring salary in the mid-$30,000 range, but chemists with a Ph.D. can expect a salary in the $70,000 range.
Considerations
The BLS predicts a lot of growth in this industry as protecting the environment and health concerns of pesticides and herbicides grow more mainstream. The BLS does say opportunities will be more plentiful for those with bachelor's degrees since those with master's and PhDs will find limited opportunities in basic research and university-level teaching. The two highest employers of agricultural chemists are perishable goods wholesalers and the federal government. Both types of employers are likely to offer highly educated employees like chemists excellent benefits such as health insurance, retirement plans and other perks such as sick and vacation time.