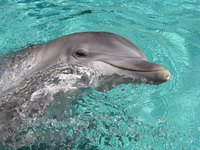 The marine world fascinates many young biology students. Some students even decide to major in marine biology. Schools and other organizations with connections to marine biology help support students' interest in the field by offering scholarships to marine biology majors. These scholarships provide tuition assistance and other benefits to marine biology majors. Among the additional benefits are unique programs that provide students with an opportunity to learn about marine biology beyond the classroom setting.
Dr. Nancy Foster Scholarship Program
The Dr. Nancy Foster Scholarship Program supports graduate students by providing education funding to students doing research in oceanography and marine biology. Congress authorized the program soon after the death of Dr. Foster, who dedicated her life to the NOAA. The program awards four scholarships per year. Preference is given to females and minority students. The award gives students a $30,000 stipend, $12,000 for the cost of education and $10,000 for research costs. Master's students can receive the scholarship for up to two years, and doctoral students can receive it for up to four years.
Cynthia Collin Stong Marine Biology Scholarship
Bowling Green State University offers an annual departmental scholarship through the Department of Biological Sciences to a student with a strong academic performance. The scholarships are limited to students majoring in marine biology and provide full tuition. Three scholarships are awarded annually to juniors and seniors, and students participate in an approved summer field program at a marine station in the Florida Keys. Students' academic records and financial need are considered during the selection process. Students who receive the scholarship must submit a written report and make a formal presentation to current or potential BGSU marine biology majors to share their experiences. Collin Stong founded the BGSU marine biology department.
University of North Carolina-Wilmington Scholarships
At the University of North Carolina's Wilmington campus, four different scholarships are awarded annually to students who are majoring in marine biology. The Charles and Kay Bolles Marine Biology Scholarship awards $2,500 to students majoring in marine biology. The Preyer Family Scholarship awards $750 to marine biology majors. The John Colucci Jr. Memorial Scholarship awards $3,500 to an undergraduate or graduate student in marine biology. The memorial scholarship is designated for students with financial need. The John and Belle Shishko Scholarship is only available to juniors majoring in biology or marine biology. The award pays full tuition and fees and is based on financial need and merit.
Marine Technology Society Scholarships
The Marine Technology Society awards scholarships annually to students majoring in marine biology and other marine-related fields. The Charles H. Bussman Undergraduate Scholarship awards $2,500 to full-time students with membership in the MTS. The MTS Student Scholarship gives $2,000 to students who are MTS members. The John C. Bajus Scholarship gives $1,000 to be used toward tuition to an MTS member who shows a dedication to community service.