Men need 120 micrograms of vitamin K daily, and women should have 90 micrograms each day, but about 75 percent of Americans don't get enough. Meats like poultry, beef, lamb and pork do contain some vitamin K per serving but not enough to be considered a good source. To boost your vitamin K intake when eating meat, use a vitamin K-rich vegetable oil during preparation, or pair it in a meal with dark green, leafy vegetables, the best natural sources of the nutrient. Consult your doctor if you're concerned about your vitamin K consumption.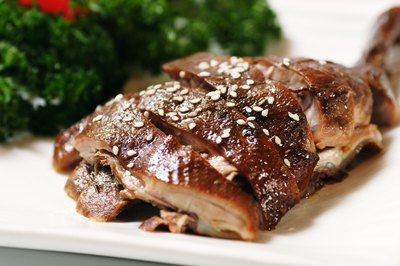 Pick Domesticated Poultry
Domesticated geese and ducks contain the most vitamin K per serving of all meats. A 1-cup serving of roast goose or duck meat, including the skin, contains just over 7 micrograms of vitamin K, or 6 percent of a man's recommended daily intake and almost 8 percent of a woman's. The dark back meat and skin in cooked turkeys contain 6 micrograms of vitamin K per cup, while the dark meat from cooked chickens supplies around 5 micrograms in a 1-cup serving. By serving any of these types of poultry with 1 cup of cooked broccoli, an adult can easily exceed his vitamin K requirement: Broccoli has 220 micrograms of the nutrient in every cup.
Experiment With Game Birds
Pheasant contains approximately 7 micrograms of vitamin K in every cooked cup. It has a richer taste than conventional birds such as chicken, so pairing it with a mildly bitter leafy green like kale will balance its flavor, in addition to adding over 1,000 micrograms of vitamin K per cooked cup. Doves, which are North America's most hunted game bird, are also higher in vitamin K than most meats, with more than 5 micrograms in a 1-cup serving. Try roasted dove with 1 cup of raw spinach salad for 145 micrograms more vitamin K.
Choose Lamb
A serving of broiled lamb foreshank or ribs contains approximately 6 micrograms of vitamin K. Lamb shoulder, ground lamb and lamb loin supply between 4 and 5 micrograms in every 3 ounces of cooked meat, fulfilling about 4 percent of a man's vitamin K needs and 5 percent of a woman's. When you're preparing dishes like roast lamb, rub the cut of meat all over with a vegetable oil rich in vitamin K, such as soybean, canola or olive oil, before seasoning. Soybean oil has 25 micrograms of vitamin K in every tablespoon, canola oil contains 10 micrograms and olive oil has 8.
Select Certain Cuts of Beef
Of all cuts of beef, veal -- such as veal leg, ribs, loin, shoulder or sirloin -- has the highest vitamin K content per serving. Most types contain between 5 and 6 micrograms in every 3-ounce serving of cooked meat. A serving of broiled top round steak supplies 5 micrograms, while lean ground beef, beef liver and all other beef cuts have 3 micrograms or less per serving. To incorporate beef into a high-vitamin K meal, stir-fry thin strips with vegetables like spinach, cabbage and asparagus. Another option could be to serve grilled beef or veal on a bed of raw leafy greens such as endive, romaine or green leaf lettuce. These greens contain between 57 and 116 micrograms of vitamin K per cup.