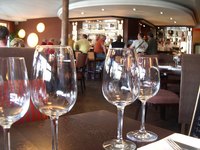 The Federal Reserve, commonly known as the Fed, determines U.S. monetary policy by setting short-term interest rates. The Fed tightens monetary policy by raising rates when it believes the economy is overheating; conversely, when the economy is weak, it loosens monetary policy by lowering rates. Monetary policy changes affect economic indicators, such as unemployment and consumer confidence. Economic conditions influence sales and profits of businesses, including small restaurants such as pizzerias and diners.
Sales
Changes in interest rates directly and indirectly affect a small restaurant's sales. Rising interest rates can reduce disposable income, which means fewer customers at restaurants. A small restaurant owner may not see an immediate sales decline when interest rates start rising. However, when the economy starts to cool off and people start getting laid off, he is likely to see a steady drop in sales. As with rising rates, restaurant sales volumes are not likely to return as soon as rates start to fall. Sales are likely to trend higher only when businesses resume hiring and people have more money to spend.
Profits
Profits depend on sales and expenses, including interest expenses. If a small restaurant has a variable rate loan or line of credit, rising rates will mean higher interest expenses; conversely, falling rates will lower interest expenses.
Rising rates imply a strong economy, which usually means higher costs for labor and raw materials, such as produce and other ingredients. Conversely, these costs are likely to be lower in a weak economy with falling rates. The cost changes are difficult to quantify, especially since U.S. inflationary pressures in food prices, with few exceptions, have been manageable. Therefore, a small restaurant is more likely to face profit pressures in a weak economy due to falling sales volume than in a strong economy due to rising labor and raw material costs.
In terms of strategies for economic downturns, a 2010 National Restaurant Association study found that guest loyalty programs, such as prepaid cards and reward points, can help restaurants gain a competitive edge and drive sales and profit growth.
Industry
Interest rates affect the restaurant industry in general. When rates increase, construction of restaurants, strip malls and shopping centers slows down as businesses focus on reducing their debt. When rates fall and economic activity picks up, as more people dine out and visit malls, more new restaurants are likely to open.
Considerations: Failure Rates
Banks may require high interest rates before lending to restaurants because of a myth that 90 to 95 percent of them fail in the first year. The reality is that the failure rate is closer to 60 percent after three to five years, according to Ohio State University hospitality management professor H.G. Parsa in the Ohio State Research News.