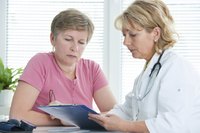 When you apply for life insurance, most companies require you to undergo a personal medical examination or interview before they insure you. Companies may have their own requirements for interviews, but they all share some common elements.
Pre-Interview Medical History Questions
You'll answer a variety of personal and medical questions when you fill in your insurance application form. These include your date of birth, height and weight, whether you smoke and drink, and how much exercise you take, for example. It's very important to answer all these questions as candidly as you can. Once you've completed your application, the insurance company will arrange an appointment for your interview. They are usually happy to do this at your home or office if that suits you best. You'll be given instructions about what you can eat and drink beforehand.
Interview Medical Questions
The medical officer who comes to interview you will ask a more detailed set of questions. He will take your full medical history and ask about the health history of close family members such as your parents and siblings. Expect to answer detailed questions about your lifestyle choices and any high-risk activities you engage in. He may also ask you questions about your driving record.
Interview Medical Exam
As part of the interview, you'll have a basic medical exam. This checks functions such as your pulse rate and blood pressure; it also measures your height and weight to make sure the figures on your application were accurate. You may have to give blood and urine samples. If the insurance company requires more involved tests, such as an EKG, X-ray or treadmill test, it may arrange an appointment at a clinic.
Interview Data Analysis
The insurance company takes the information from your application and the interview and assesses it. Underwriters determine what your risk factors are -- this influences the approval or denial of your application and your premium costs. During the process, the insurance company may contact your physician to learn more about your medical history. This is why it is important to be honest in all of your answers. If you are found to have lied, the company may deny you coverage and flag you, which will make it difficult for you to apply to other insurers.