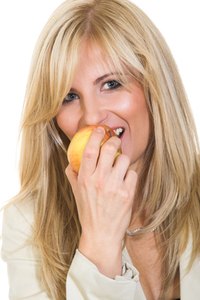 Being healthy encompasses much more than simply not being sick. It includes, of course, physical aspects such as the ability to do the things you need to every day -- walking, completing household chores and sleeping. But true health also involves being happy and having mental focus and clarity.
Fitness
Fitness is one of the starting points of health. Cardiovascular fitness means you are able to walk, run or climb as you need to without feeling out of breath or as if you need to rest. Walking, jogging, swimming, cycling or any activity that raises your heart rate is good for your cardiovascular health.
Muscular fitness is having the strength to pick up a bag of groceries and carry it or do other chores that require strength, such as shoveling snow or scrubbing stains. Increase your muscular strength by lifting weights or doing exercises like push-ups and squats, which strengthen your muscles without any additional equipment.
You also need to be flexible, so your muscles can stretch in everyday activities without getting sore. Try yoga or Pilates to increase your flexibility, or simply spend a few minutes stretching after your daily walk.
Body Type
If you are overweight or underweight, this can undermine your health. Being healthy means keeping your body at a healthy weight for your height and not having too much fat. The best way to do this is by eating healthy food and exercising every day, even if it's just walking.
Food
Having an appetite for the right amount of the right foods is another aspect of health. Eating when you are not hungry, continuing to eat when you are full or consistently eating unhealthy foods are not part of being healthy. These all demonstrate an unhealthy relationship with food.
Contribute to your health by eating plenty of fruits and vegetables and drinking lots of water. Round out your diet with low-fat dairy products, whole grains and low-fat protein. Indulge in your favorite treats once in a while without feeling guilty.
Sleep
Being healthy means being able to fall asleep relatively quickly at night and waking up in the morning feeling refreshed. Aim for at least seven hours of sleep. If you wake up consistently during the night, can't sleep or can't wake up in the morning, seek help from a medical professional. Sleep is essential for all the other aspects of health in your life.
Happiness
Happiness isn't always part of a traditional definition of health. But being healthy mentally, looking forward to what you have to do each day and being happy with the people in your life are all essential for your body to be physically healthy. According to the Mayo Clinic, honest communication with the people in your life can help maintain the relationships that are important to you and keep you happy.