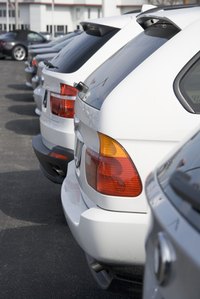 Nationwide, automotive sales positions make up 37 percent of all positions in automotive dealerships, according to the Bureau of Labor Statistics' Occupational Outlook Handbook. With dealers often transitioning from commission-based pay to a more stable salaried income, the industry is in a period where earnings — as well as job stability — may vary greatly among dealerships, making accurate estimations of New York salesmen salaries difficult.
Average New York State Salary
The middle 50 percent of salaries for automotive sales staff who work at new and used dealerships in the state of New York range from $30,495 to $53,062 as of January 2011, according to PayScale. Because salesmen's earnings often depend upon sales commissions, their earnings may vary greatly by their position, their abilities and the average sales price of the cars they sell. Salesmen who work at commissioned dealerships often only earn commission on the profit made on selling a vehicle.
Average New York City New-Car Sales Salary
In New York City, the average annual salary for a new-car salesman is $27,916 as of January 2011, according to Salary Expert. Although this is lower than the average salary reported for the state, it's the highest figure for new-car sales figures in the 10 cities surveyed by Salary Expert. These salary figures may represent base salaries, with many salesmen receiving additional commission payments for sales made.
Average New York City Used-Car Sales Salary
Used-car dealers in New York earn more than their new-car counterparts, according to Salary Expert. Used-car sales staff earn average annual salaries of $35,098 in New York City as of January 2011. These higher salaries may represent the larger profit margin typically associated with used-car sales as opposed to those coming directly from the factory.
National Average Earnings
After commission and base salaries are calculated, car sales representatives nationwide earn the equivalent of $18.91 per hour as of May 2008, according to the Bureau of Labor Statistics. Workers employed full-time at this wage earn $37,820 annually. The midpoint of PayScale's salary range for statewide earnings, $41,778.50, is 10 percent higher than average national earnings.