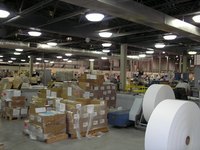 Purchasing assistants assist buyers or purchasing managers in buying products and services, primarily for wholesale or manufacturing. They may process orders, keep records, and contact suppliers and shippers under the supervision of their bosses. They may later advance into supervisory positions, and must thus develop some technical knowledge about the products they purchase.
Salaries
Purchasing assistants make a base salary of $11.97 to $16.29 per hour, or $17.69 to $24.04 for overtime, according to a PayScale.com report with 633 individuals responding as of January 2011. Adding annual bonuses of $481 to $1,954 and profit sharing of $1,000 to $3,000 can boost total annual compensation to $26,713 to $37,508.
Experience
More experience grants purchasing assistants a wider network of vendors and clients, increasing their value to employers. Thus, salaries go up with the passing years. For example, new assistants earn $25,549 to $39,305 annually, but at one to four years of work, they make $29,827 to $39,513. With five to nine years under their belts they receive $30,228 to $41,697, and with 10 to 19 years, they get $29,970 to $43,638. Finally, at 20 years or more, they top out at $35,206 to $53,546, according to PayScale.com.
Industries
Compensation varies by industry, since the workplace dictates what purchasing assistants buy and the scope of their duties and responsibilities. Construction, for example, pays the most at $34,000 to $50,413 yearly, since the high cost of construction materials can determine the profitability of individual projects costing millions. Salaries are more modest in food manufacturing, because of the lower cost of supplies, and because that cost can be spread out over thousands or millions of products. This business pays $31,984 to $40,000 annually.
Type
The type of employer that hires purchasing assistants can influence salaries. For example, those in schools and school districts earn the highest and widest ranges at $24,500 to $48,470 annually, reports PayScale.com. These types can vary from small, rural organizations with relatively few and inexpensive supplies, to large metropolitan districts where the number of students run into the tens of thousands, and school supplies collectively cost millions. In hospitals, assistants can buy expensive prescription drugs and surgical supplies, or cheap writing instruments for administrative personnel. They make $27,048 to $47,000 yearly.
Location
High population areas generally offer the best job opportunities for purchasing assistants and the highest pay. For example, jobs in California, the nation's most populous state pay $33,356 to $47,743. In New York, positions pay $31,068 to $45,138, and in New York City, the nation's most populous city, they offer $32,556 to $45,201. Other states with high-paying employers include New Jersey at $30,358 to $44,748 and Texas at $28,000 to $38,000. (REFERENCE 5 and 6)