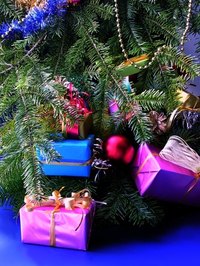 Christmas and New Year's always fall exactly one week apart. Because so many students and family members have most or all of that week off, it makes it an ideal time to take a trip. If you plan to travel anytime in late December, be sure to book your airline tickets and secure your lodging early, as prices tend to rise as inventory falls the closer you get to the holiday.
New York City
New York at Christmas can be an absolutely magical. The famous Radio City Christmas Spectacular is playing, skaters are circling the ice at Rockefeller Center, and the windows on 5th Avenue have been decorated with Christmas themes. You can check out the bevy of museums the city has to offer such as the Museum of Modern Art, The Metropolitan, or even the Children's Museum of the Arts. You can catch a show on Broadway by going to the TKTS Booth in Times Square where tickets are 25 to 50 percent off, or you can while away the hours exploring the many bridges found throughout Central Park. Make sure to grab a few chestnuts roasting on an open fire from a street vendor as well. Area airports include John F. Kennedy, LaGuardia, and Newark. You can stay in hotels in Manhattan, Brooklyn, Queens or Staten Island during your trip. One tip is to stay slightly outside Manhattan and take the subway into the city if you're looking to save on accommodations.
Skiing
Hit the slopes during the week between Christmas and New Year's for a memorable vacation. Vermont ski locations include Mount Snow, Stratton, Stow, Pico Mountain and Killington. New Hampshire ski locations include Loon Mountain, Black Mountain and Bretton Woods. If you're looking to ski in the western part of the country, check out Colorado skiing. Ski resorts include Breckenridge, Telluride and Sunlight Mountain. One consideration for planning a ski vacation is whether you'll buy or rent ski equipment. If you're driving and you have your own ski equipment, it will make sense to bring it with you. If you're flying to a destination, renting probably makes more sense. Also, when it comes to finding lodging, think outside of just the resorts and hotels in the area. Many people rent their condos for the week or weekend during ski season. When purchasing ski passes, look at buying multi-day passes, as they usually reflect a slight discount over buying daily passes.
Cruise
If a warmer climate is your idea of a great vacation, escape the cold and hop on a tropical cruise. In general, cruising during the week between Christmas and New Year's is the most expensive time of year. However, when compared to other vacation ideas, cruising is still an affordable option. Tips include purchasing your cruise nine to 12 months in advance. Also, look at the itinerary when booking to determine if you want to be at sea or at port on the New Year's holiday. When choosing a cabin, you can save some money by booking an interior cabin, but spending a little extra on a balcony might be a special treat. Cruises will also offer special events and parties for those on board to ring in the New Year.
Europe
Traveling to Europe during the week between Christmas and New Year's is actually off-season from when most Americans visit. This is due to the fact that Europe, like much of America, is colder during this time. Flights and hotels will be cheaper than during the peak season, and you'll get to experience European holiday traditions, which vary greatly from America's. You can view the "8,000-pound Fruitcake" in Dresden, see "Kindly Witches" moving about in Rome or be scared by the "Treacherous Demons" in Salzburg. Advent markets are also quite popular, where locals purchase Christmas and holiday decorations to help celebrate the yuletide season. These special events are on top of the classic European destinations such as Stonehenge, the Eiffel Tower, The Vatican or the Swiss Alps.