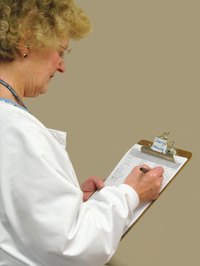 Admissions coordinators are responsible for screening and admitting patients into assisted living, independent living, hospice care and other nursing home facilities. These professionals oversee all operations related to patient admissions, including bed assignments and the processing of related paperwork. The average salary for admissions coordinator jobs ranged from $38,397 to $54,911 according to a PayScale report. Salary.com stated that the median annual wage for admissions coordinators in nursing homes was $41,026.
Benefits
Common employee benefits include retirement plans, health care insurance, paid sick time and mobile devices. Admissions coordinators working in nursing homes reported salaries that varied based on the type of company perks they enjoyed in their respective positions. Professionals with 401(k) plans reported average salaries ranging from $39,037 to $50,903 yearly. Admissions coordinators who received paid holidays and vacation days fell within the $41,905 to $55,982 salary range. Workers with company-paid cellular phones reported average salaries ranging from $46,000 to $60,741 per year.
Location
SimplyHired demonstrates that average salaries for admissions coordinators can fluctuate based on factors such as work experience, education level and employer type. In California, professionals earned an average salary of $44,000. Admissions coordinators working in New York averaged a salary of $46,000. Georgia admissions coordinators earned an average of $37,000 yearly. In Colorado, professionals reported average salaries totaling $42,000 per year.
Time Frame
According to PayScale, the length of an admissions coordinator's career has minimal impact on salary levels. For example, professionals with just one to four years of experience earned more than their counterparts with five to nine years of experience. Admissions coordinators who held one to four years of work experience reported average salaries totaling $36,358 to $59,116 per year. The salary range for admissions coordinators with five to nine years of work experience fell between $40,000 and $50,336.
Industry
Similar to other industries, admissions coordinators earn varying salaries depending on their sector. Admissions coordinators working in hospices reported an average salary range that fell between $50,421 and $61,347 yearly. Professionals employed in the overall health care industry reported an average salary between $36,493 and $45,000 annually.
Type
PayScale reported that nonprofit organizations paid nursing admissions coordinators on average as much as $8,000 more than corporations. For example, admissions coordinators working in companies received average salaries ranging from $36,358 to $51,395 per year. In comparison, admissions coordinators employed by nonprofits received annual wages ranging between $38,000 and $59,643 annually.