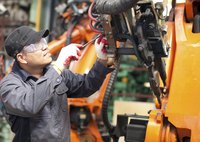 Average hourly rate is a metric used to show typical earnings for an industry, company or career. The simple formula to calculate AHR is total pay divided by the number of hours worked in the evaluation. While workers use this metric to evaluate career options, businesses use it to decide how much to pay for a particular position.
Company Applications
The U.S. Bureau of Labor Statistics maintains average hourly wage statistics for thousands of positions. Businesses use this data and localized data to assess average hourly rates for jobs. If the average hourly rate in a region for a retail associate is $9.25, for example, the company has something to go on when setting its own rates.
Career Applications
An aspiring professional can use BLS data and other career wage studies to identify pay potential for a job. The BLS noted that the average hourly rate for health care social workers as of May 2013 was $25.25. A new graduate can compare this average to other career fields. A marketing specialist earned an average of $32.59 per hour as of May 2013, for example. Both careers typically require a bachelor's degree, but the average marketing specialist earns more per hour.