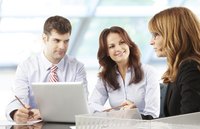 In business, a principal is a person with primary authority and responsibility to make decisions. The principal is often an owner, operator, partner or high-ranking manager. In a principal-agent relationship, the principal also directs the actions of an agent who carries out activities for the organization.
Rewards and Risks
The role of principal carries rewards and risks. A principal may earn income from the business or he is often a top earner. He also has authority to make important decisions without input from superiors. The counter to the responsibility is the liability that comes with decisions and actions. Whether a principal or agent acting on his behalf makes a bad decision, the principal party is legally, ethically and practically responsible for the outcome.
Principal-Agent Examples
In a real estate office, a broker is a principal, and other agents act on his behalf in the office. If an agent acts illegally, the office and principal broker face potential liability. Insurance and financial services offices have similar broker-agent setups. In a law firm, a partner is a principal, while a junior lawyer acts on behalf of the partners in the firm.