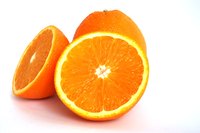 The average daily consumption of sugar in America is about 42.5 teaspoons, which adds up to almost 152 pounds of sugar a year. Most people should eat only 13 teaspoons of sugar daily, according to the New Hampshire Department of Health and Human Services. If you want to cut back on your sugar intake, you might be concerned about the natural sugar content of foods, such as in fruits and vegetables. However, avoiding added sugars is more important than restricting your intake of natural sugars, such as fructose.
Naturally Occurring Sugars
Fruits, vegetables and milk naturally contain sugar. The main sugar in fruits is called fructose, but sugars also contain glucose. Vegetables often contain a sugar called maltose, which also occurs in beer. Milk contains a sugar called lactose. Fruits and vegetables vary in their sugar content; for example, apples contain about 13.3 g of natural sugars per 100 g, grapes contain 18.1 g and tomatoes contain 2.8 g.
Consuming Natural Sugars
Natural sugars and other carbohydrates give you energy. In addition, fruits, vegetables and milk contain important nutrients, such as vitamins, minerals and fiber. Eating whole fruits and vegetables reduces your risk of heart attacks and strokes, lowers your blood pressure and improves your digestion. Unless you need to watch your sugar intake for medical reasons, such as diabetes, natural sugars are not a threat to your health.
Reading Nutrition Labels
Nutrition labels don't differentiate between natural sugars and added sugars, but you can look at the ingredients of a product to determine whether it has added sugars. Added sugars go by many names, including corn syrup, fructose, glucose, molasses, honey, dextrose, sorbitol, sucrose and syrup. If you start reading nutrition labels, you'll realize that lots of processed foods have added sugars, not just candy and sweets but also peanut butter, ketchup, salad dressings, cereal, soup and bread. Many of these products provide lots of calories but few or no nutrients.
Making Smart Sugar Choices
If you want to cut back on your sugar intake or cut calories, drink water, milk, tea or seltzer instead of soda. Soda provides about a third of most people's added sugars and has no nutritional content. Choose fresh or frozen fruit and vegetables instead of candy, ice cream and other desserts. Select canned fruits and vegetables packed in water with no added salt. Look for cereal with no added sugars and sweeten your cereal with slices of fruit.